The drive North took us through the biggest mountain climbs yet. Semis travelled slowly up the mountain in the right lane.
Since it was my first time on mountainous roads like this, I was unsure how the descent would be. We crested the top and the views ahead were incredible. We looked out across a flat valley with a city nestled amongst the mountains. I let off the accelerator and was ready to brake. I saw many trucks and cars further down the mountain with brake lights illuminated. I thought that would soon be us. That ended up not being the case. For almost the entire descent, save for a few moments, I never had to touch the brake.
The tow mode of the truck handled it like a boss. The engine kept us around 53 mph the whole time. Color me impressed. We continued on, through smaller but gorgeous nonetheless mountains, till we reached our turn off of the highway onto the gravel road.
The road quickly became rough. Probably the roughest we've towed on yet.
Owen was supposed to sleep on the drive here but just wouldn't. Somehow he was rocked to sleep by the super rough terrain. It took us about 30 or 40 minutes to travel 5 or 6 miles.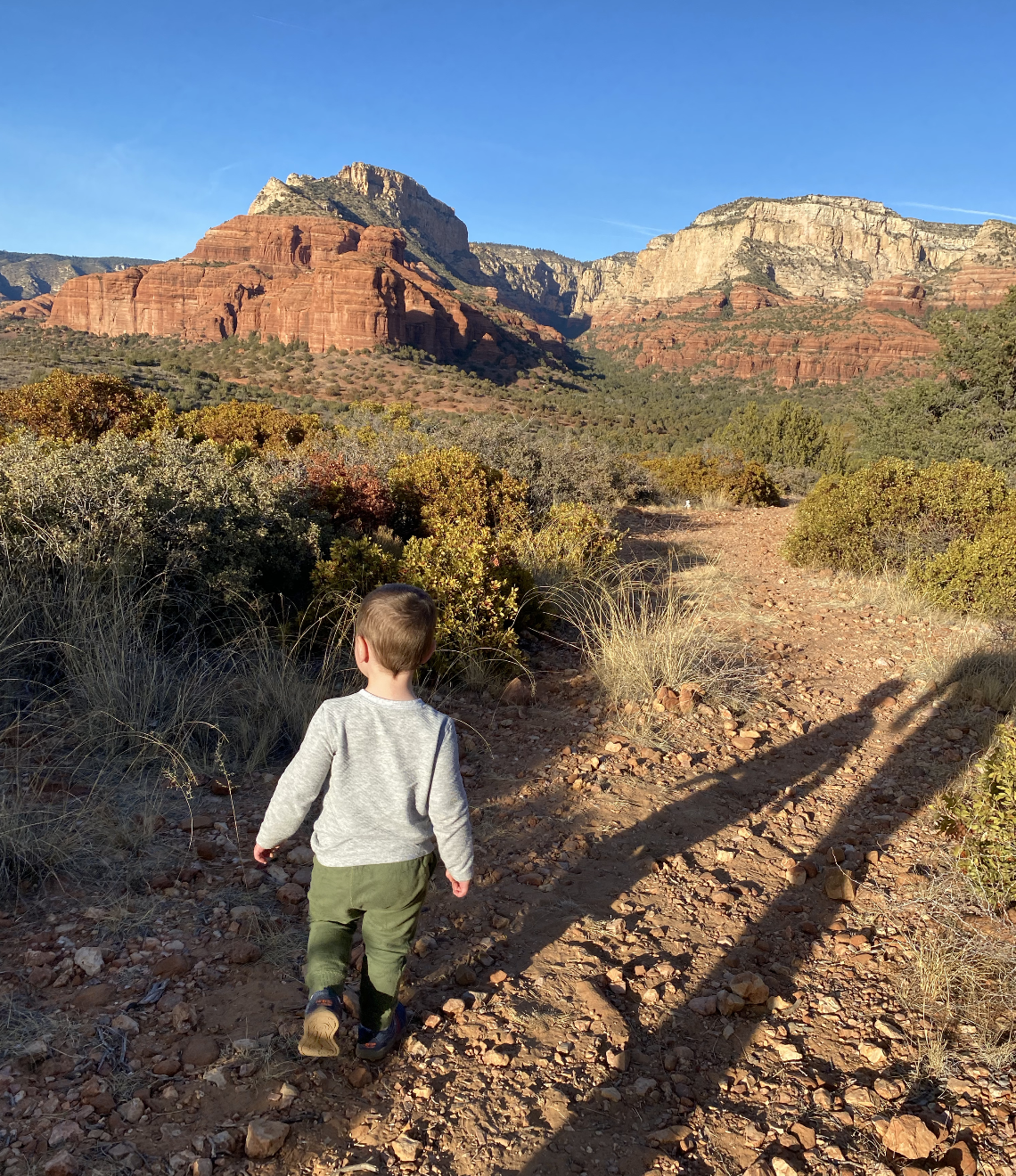 We ventured further up Red Rocks. Many spots on this public land were filled with other RVs, overlanders, vans, and tent campers. We weren't sure how far we could keep going down this single lane dirt road before we'd lose our turn around room.
We paused on the road a couple times to get out and scout a potential spot on foot, but each time revealed more campers further back on this free to stay land.
We finally came upon a great spot that only had a family tent camping further back that we decided would be our spot. We scouted briefly on foot to determine our set up spot, then backed in. We set up camp and settled in for what was going to be a Saturday to Friday or Saturday to Saturday stay.
After setting up, we wanted to scout further down the road to see what adventures we could have over the next few days. We loaded into the truck and set out further into the Red Rocks area.
We continued down the road and up a decent climb, past forks in the road that I'd research later. The road took us up to a fantastic lookout, where some smaller RVs and overlanders were parked. Not somewhere our RV trailer would have fit.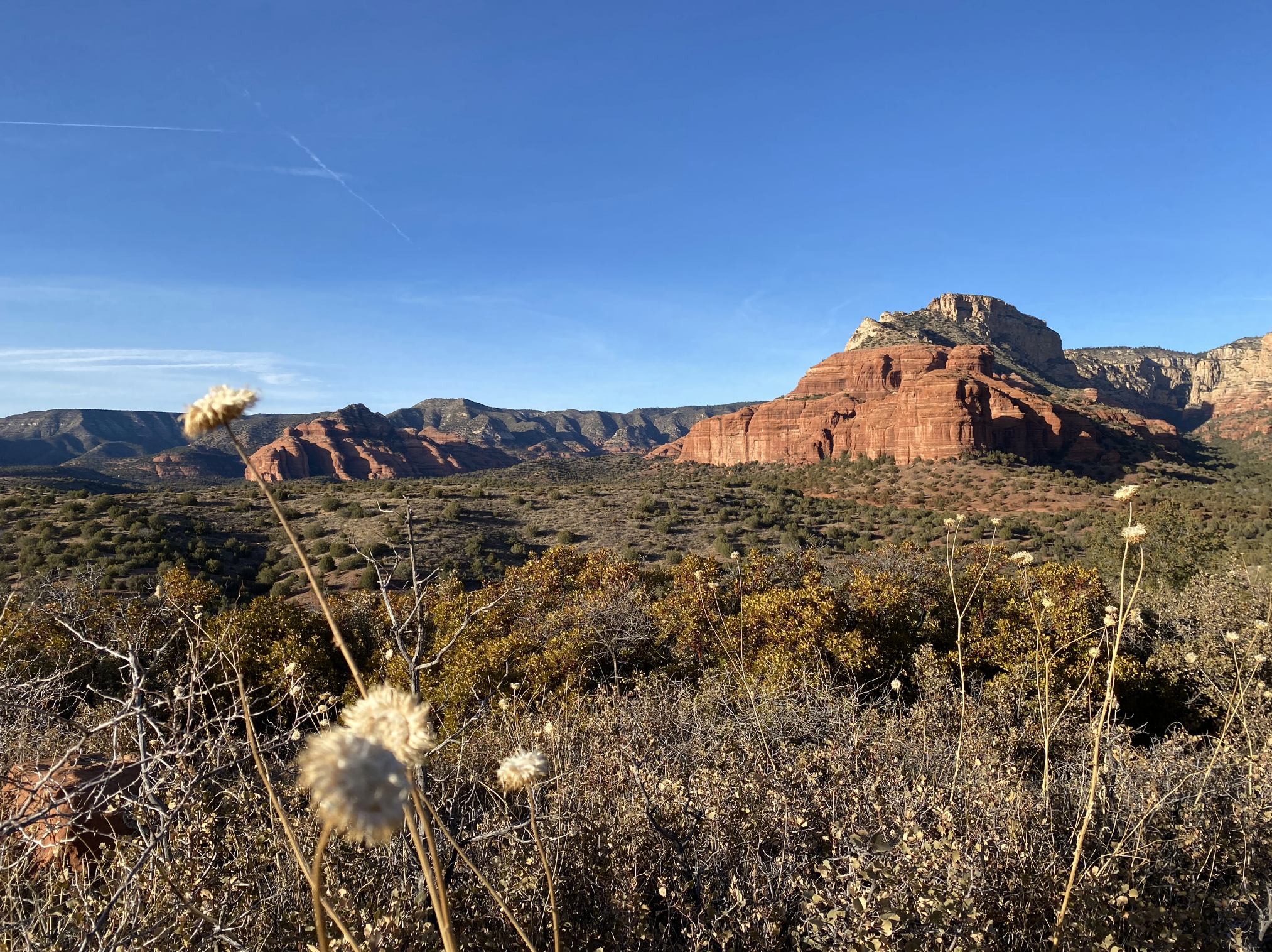 We parked and set out on foot. Snapped some pics and found a descending trail that approached the Red Rocks cliffs. We decided to traipse along it for a bit. The walk was nice. A good activity after our travel. Owen had a fun time exploring the sounds, rocks, and plants around us. Nothing too notable on this hike. We got back in the truck and headed the 20 minutes back to camp.
That night, we did some research on the area around us and found a nice trail fitting for our family for the next day.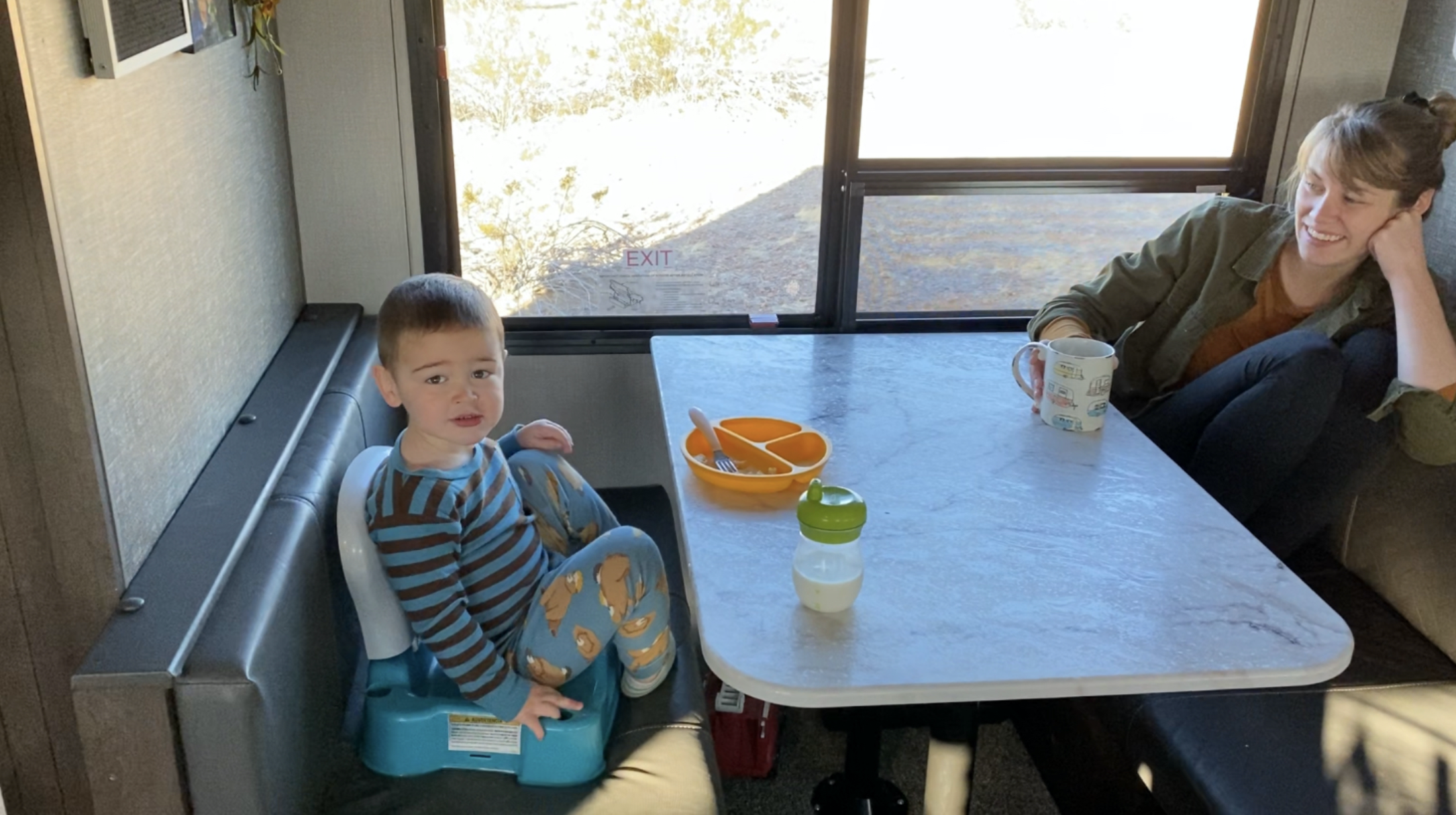 The next day, we took our time waking up. We enjoyed some coffee from the French press and played in the house before we set out for our hike. The drive to the trailhead was a fun one, recommended only for 4 wheel drive vehicles with high clearance. First time I've been able to traverse terrain like that since we've had less capable vehicles in the past.
Upon arriving at the trailhead parking lot, there were a handful of other vehicles. We found our spot, unloaded, and I grabbed the backpack Owen rides in from the truck bed. We set out. It was an easy venture without really any elevation gain.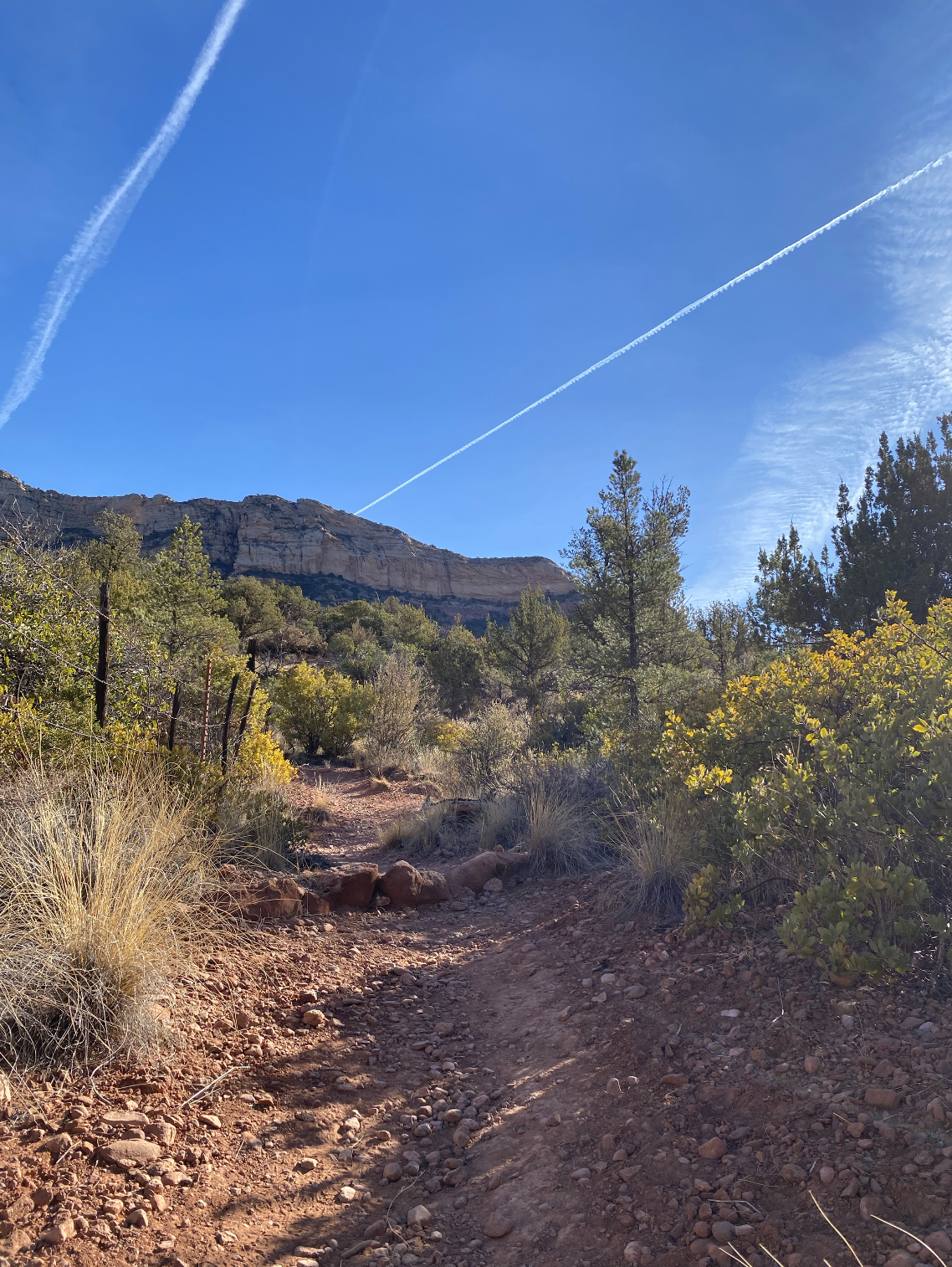 Long ago, the trail started as a route for a rancher to traverse his cattle herd between pastures but was now relinquished to hikers. It traveled along a fence line of an existing nearby ranch. There was more growth than I expected. The terrain took us along a canyon floor, full of vegetation, birds and canyon walls around us.
Our hike was time based. We wanted to ensure we could turn back, get to the truck, and drive back to camp in time for Owen's lunch and nap time. We nailed it.
The trail continues beyond where we left it. It eventually quickly gains elevation toward its end, with fantastic views and options to continue up another lightly traveled trail to the peak of the mountain. None of that was in our deck of cards today.
We got back to camp and Owen and I picked up trash around the area while Ellie prepared lunch. People trashing public lands is a growing thing. Luckily it wasn't too bad here but I wish more people respected these awesome lands. It's leading to areas around the country to be shut down. The few ruining it for all. Anyway, we had lunch outside and put Owen down for his nap.
While he slept, Ellie and I spent time outside under the warm sun. I went for a short walk, got a quick resistance band workout in, they're light for travel, and jumped rope, also light and great. We both read and chatted for a bit. Nice relaxing time.
That night, I grilled chicken on the outdoor kitchen griddle while Owen hung out, finding (the right) rocks and riding his trike around camp. I love cooking out there.
The cell signal we were getting there wasn't going to support the upcoming week's work. I tried putting up the WeBoost antenna, which can help greatly in the right circumstances, to see if that would help but I didn't have the confidence or comfort in what I was seeing to stay in the area. We had to decide: relocate today (Sunday) or relocate tomorrow (Monday). I pushed for Monday just so we could take more advantage of our time here for exploring before we set out again.
We settled on Monday.
We found another fun hike for the family and planned it for Monday morning. We'd then pack up and tow back toward Phoenix for warmer weather and better cell service for the work week.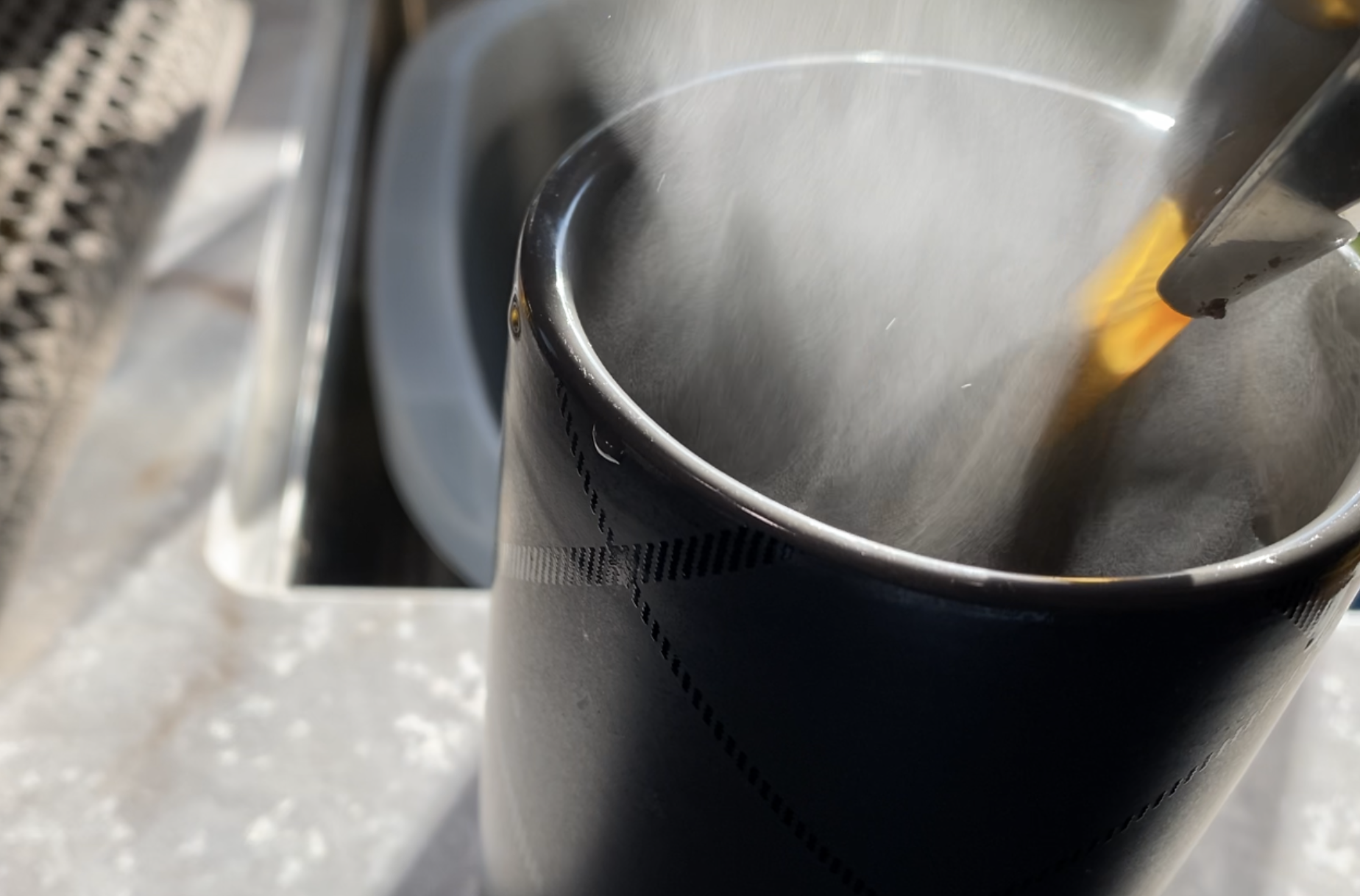 Monday morning came. It was relaxed and slow to get out the door for our hike, but less so than the prior day. We enjoyed our coffee, Owen had breakfast, and off we went.
The drive took about 30 minutes to the trailhead. This one was busier than the previous day's hike. This hike also shared similar terrain to yesterday's. Vegetation galore.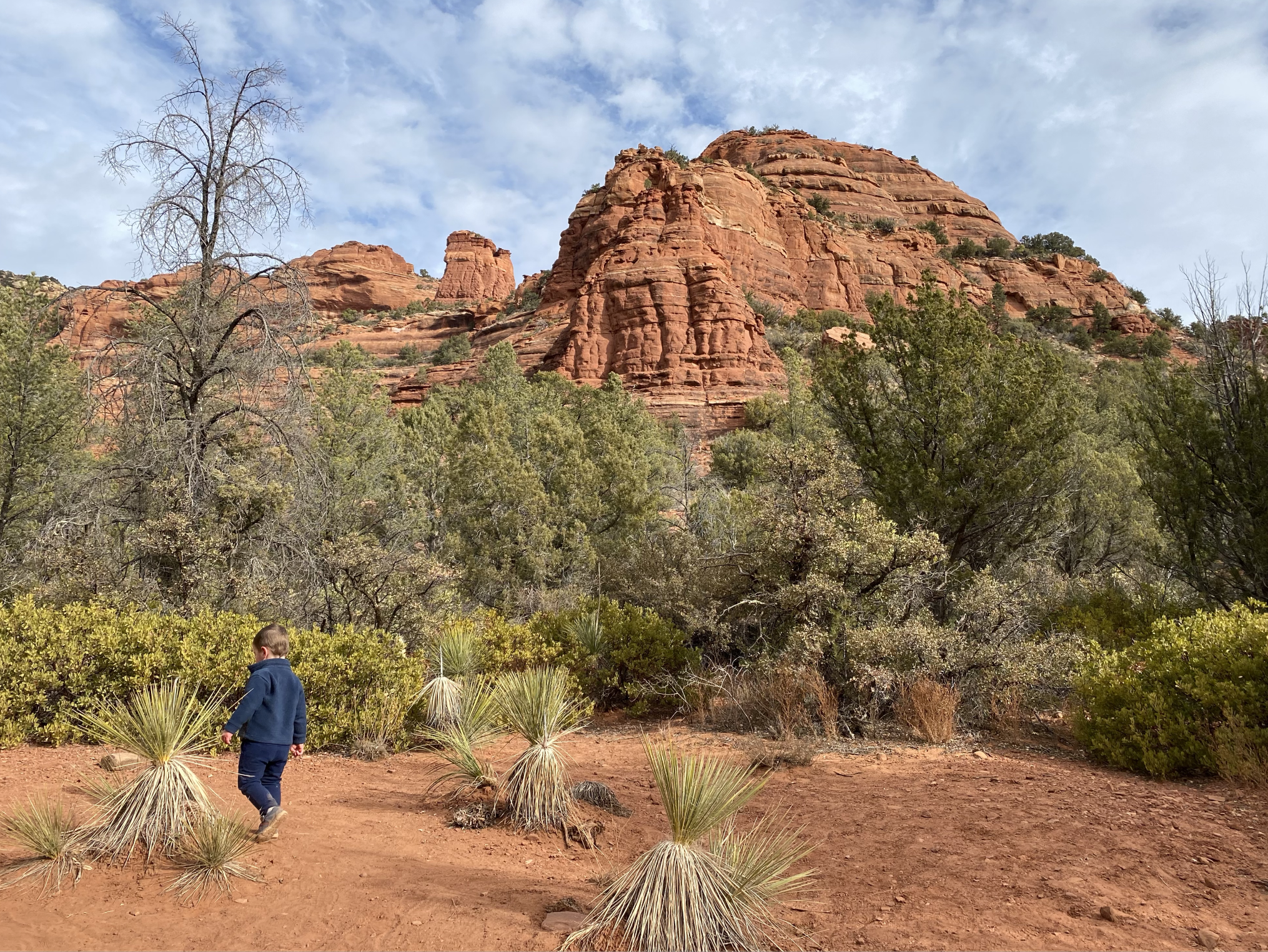 There was a sign at the start to not feed bears. Don't feed the bears people. Not surprisingly, some bear in the area started associating food with people and even chased some. It had to be shot so it wouldn't pose a threat to humans. Sad. It's not the bear's fault, it's human's fault.
It was a good hike. We passed many others enjoying the tranquil area, heading up and down the trail. Both sides of us contained sheer red cliffs as we continued up the canyon floor.