Sunsets, Balloons, Stunt Planes
We've been full-time travelers for a bit more than three months at the time of this writing (four months at the time of this posting live). We've seen a lot. We're still blown away at the similar yet varying landscapes we've camped in and explored, but some of the wonder I once held has waned.
I not sure if that's necessarily a bad thing, it's to be expected, however, I never want to lose the gratitude I started this new journey with. And I don't think I will. I'm still so in love with having our four small walls around us despite the ever changing scenery. Stays at a single location reveal new ways the landscape looks and behaves under differing light & weather conditions.
We've hiked a lot; random trails, made our own paths, and explored multiple National Parks. You'll hear more about all these in future posts. After having weeks of constant go go go outside of work hours and weeks of laid back relaxation around camp and staying out of the touristy places, I've determined my happy is in the middle.
I look back on the busy, explore everything weeks with appreciation. Gratitude for how much we did in such a short time. How much we saw and moved. And I loved it. But I also think back to stays like this one that you're about to read, where we hung around camp, explored by foot, enjoyed an amazing sunset every night, but did minimal hiking or sightseeing. And it was simple and awesome.
• • •
This is all about our stay next to a busy shooting range near Anthem, Arizona.
The shooting range, Ben Avery.
The campsite, a narrow strip of BLM/AZ trust land to the west of Ben Avery.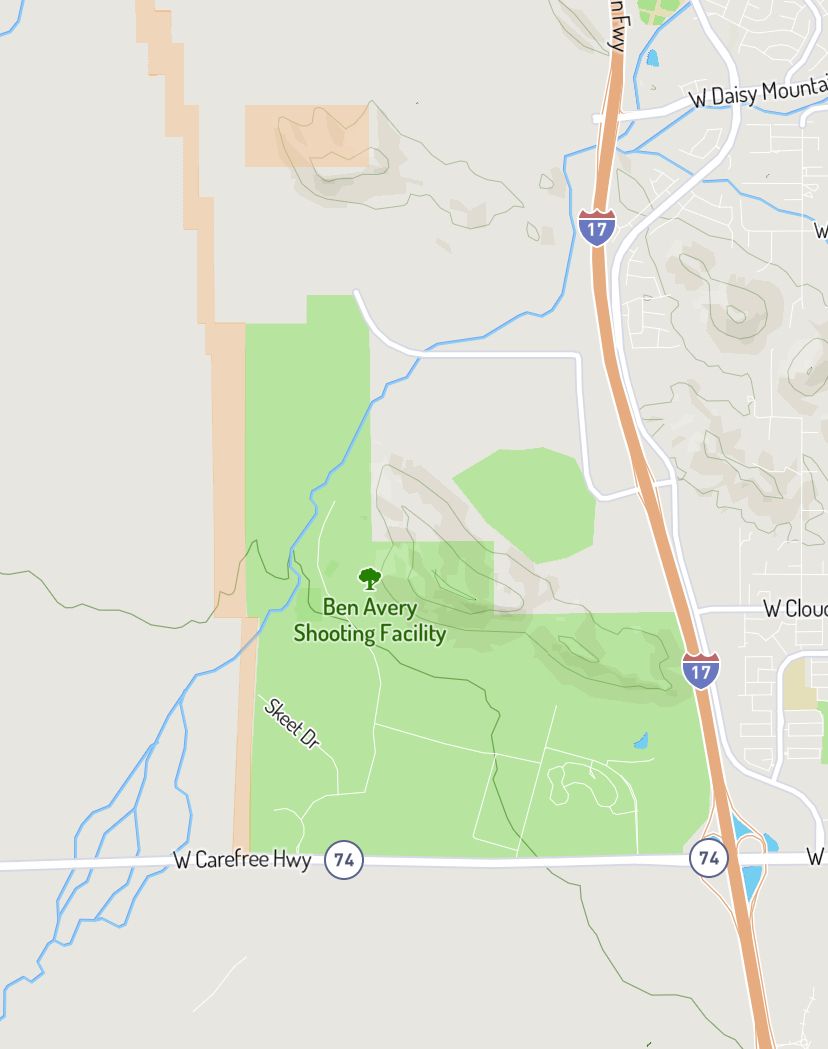 Two weeks of sunsets, hot air balloons, and aerial stunt planes. An experience in preparedness (or lack of), and a first place bar trivia visit with family friends from when I was eight years old.
We pulled away from my cousin's driveway on a Friday after work and swung into an RV dealer on the way to camp. We ended up arriving 15 minutes before they closed to fill up with water. An app we use indicated this place had free, potable water. Turns out apps don't always reflect reality. They turned us away. It was too close to closing and it was "for members only." Now what? We had gone out of our way to get here. We've since started calling ahead to places to verify their water situation, which you'll see in a bit that still isn't foolproof.
There were no other spots to dump or fill with water in any of our apps along our route and it was already looking like a late arrival. We chose to head to camp for the night and find a place somewhere tomorrow.
We arrived at the gate after dark. It's nestled up along the shoulder of West Carefree Highway just outside Anthem. Ellie hopped out to open it and we drove through. She was sure to close it behind us, just as the reviews reminded visitors to do. Some gates are meant to keep things out, but this one works to keep things in. Wild burros, to be exact. Not sure what that is? That's okay neither were we. A quick search revealed they are basically wild donkeys. Sweet! We'd better see some. There was tons of evidence of them strewn about our dark campsite we selected for that night along the fence line that contained the massive shooting range.
• • •
The next morning, we learned the rage opened at 7:00am. We were awoken by the pop! pop! pop! of gunfire. Good on em, not sure where they found their ammo. We also saw a beautiful display of hot air balloons!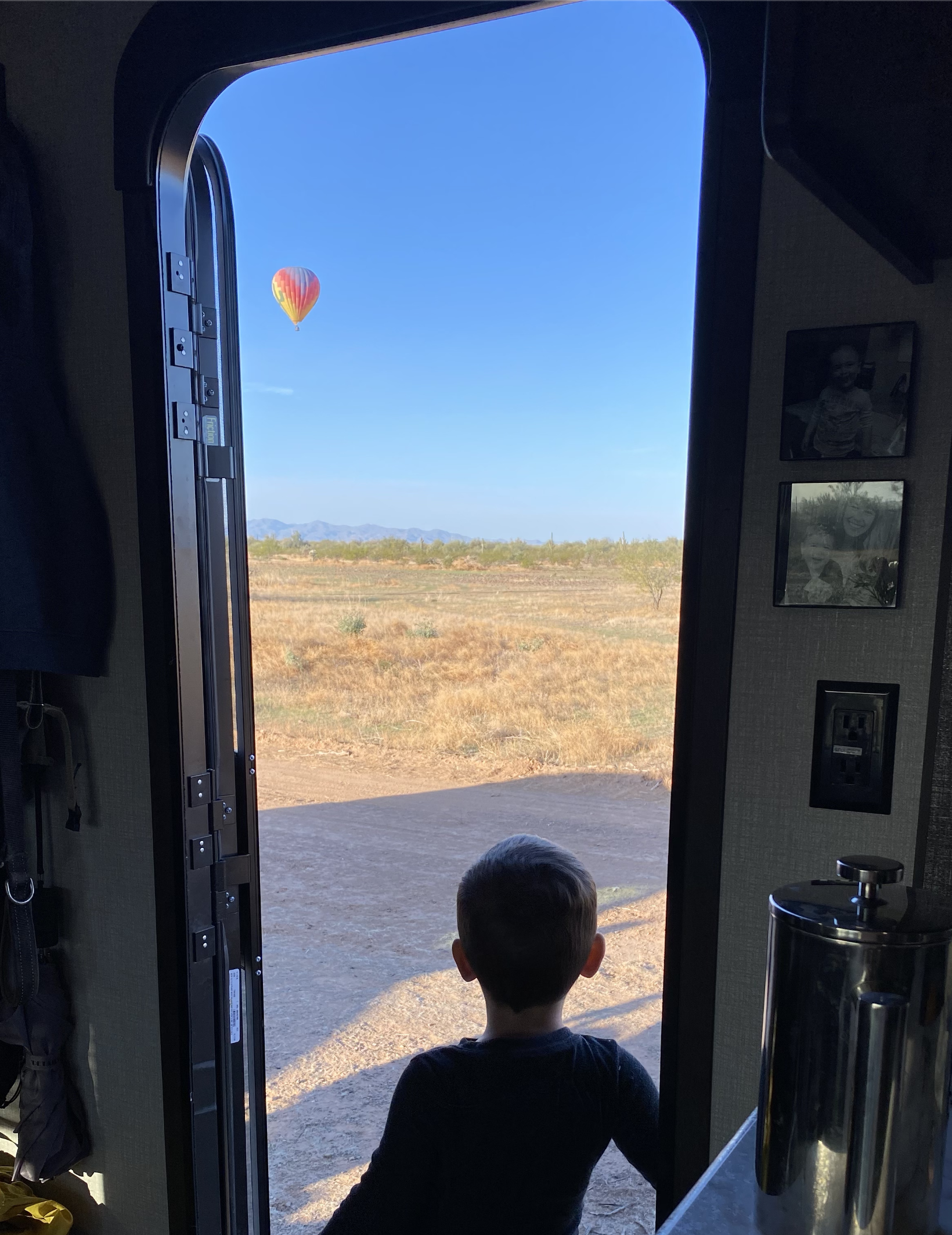 We got Owen ready, and ourselves, and started researching places we could get water and empty tanks. Ellie found one about 25 minutes away.
The prior night, since we knew we'd be leaving with the RV in tow, I didn't unhitch, which made for an easy get-away. Anyway, Ellie called this place to double check that the water was potable. They assured her it was, off we went. We arrived, it was another RV dealer. Ellie went inside to confirm where the water station was. She comes out and informs me the guy inside said it's not potable and we should not use it. Oh boy. So to skip additional frustration, we decide to just bite the bullet, (see what I did there?), and head to the Pilot gas station one hour away that we have used twice prior so it's guaranteed to have what we need, including some damn coffee. ☕️
• • •
We arrived back at the campsite, through the gate and picked our spot. We ended up staying here for two weeks before heading east to BLM land near Pickett Post Mountain.
Our evenings on this sliver of land were filled with beautiful sunsets. I think we've seen more sunsets over the duration of our travels than all of our life prior. We're definitely more tuned with the weather since even too much wind keeps us inside due to blowing bust, which has been a common occurrence for us out West.
We'd often play fetch with Bindi and watch for large groups of hot air balloons floating nearby & overhead. Mornings and evenings appeared to be preferred for them.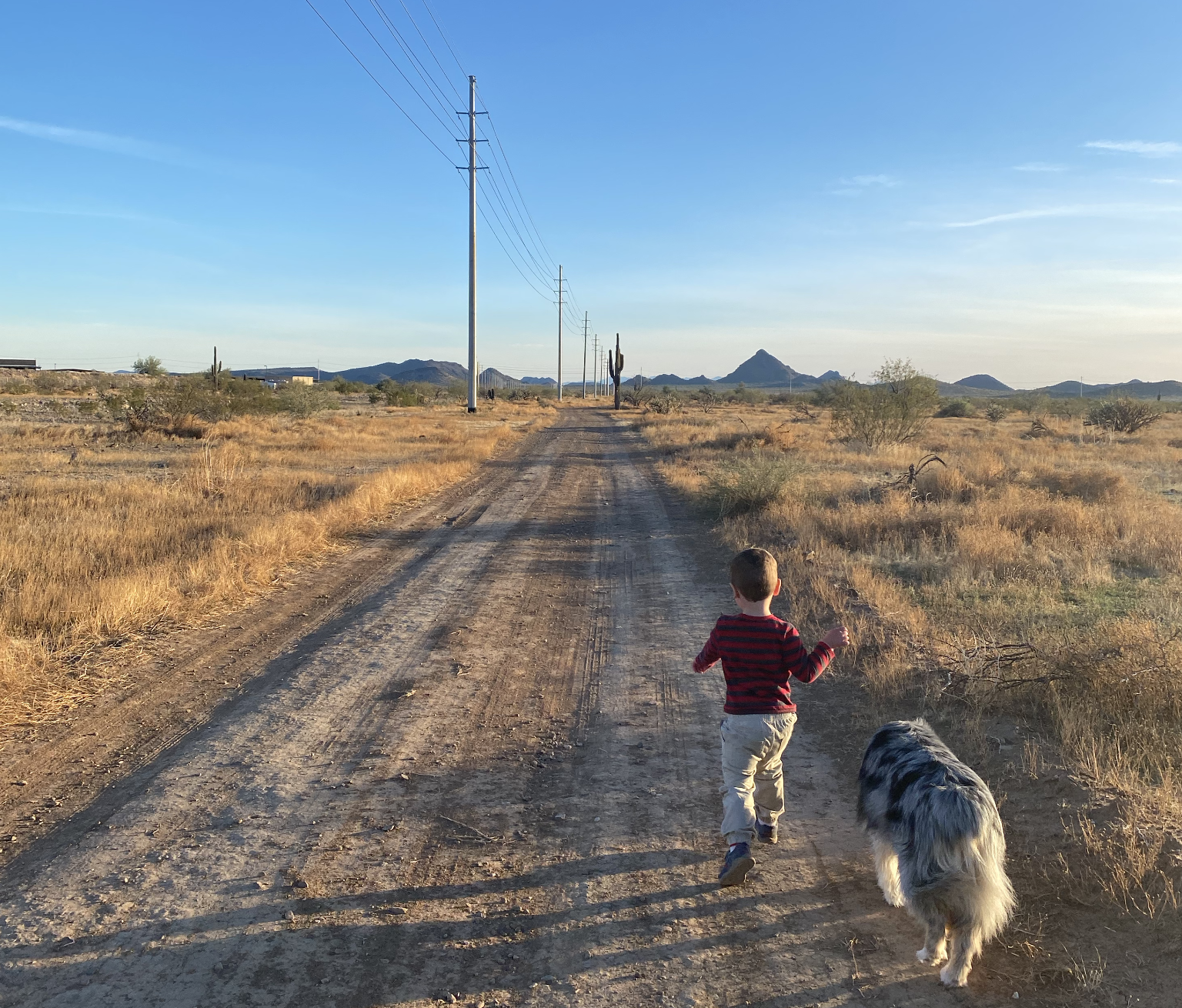 To be continued...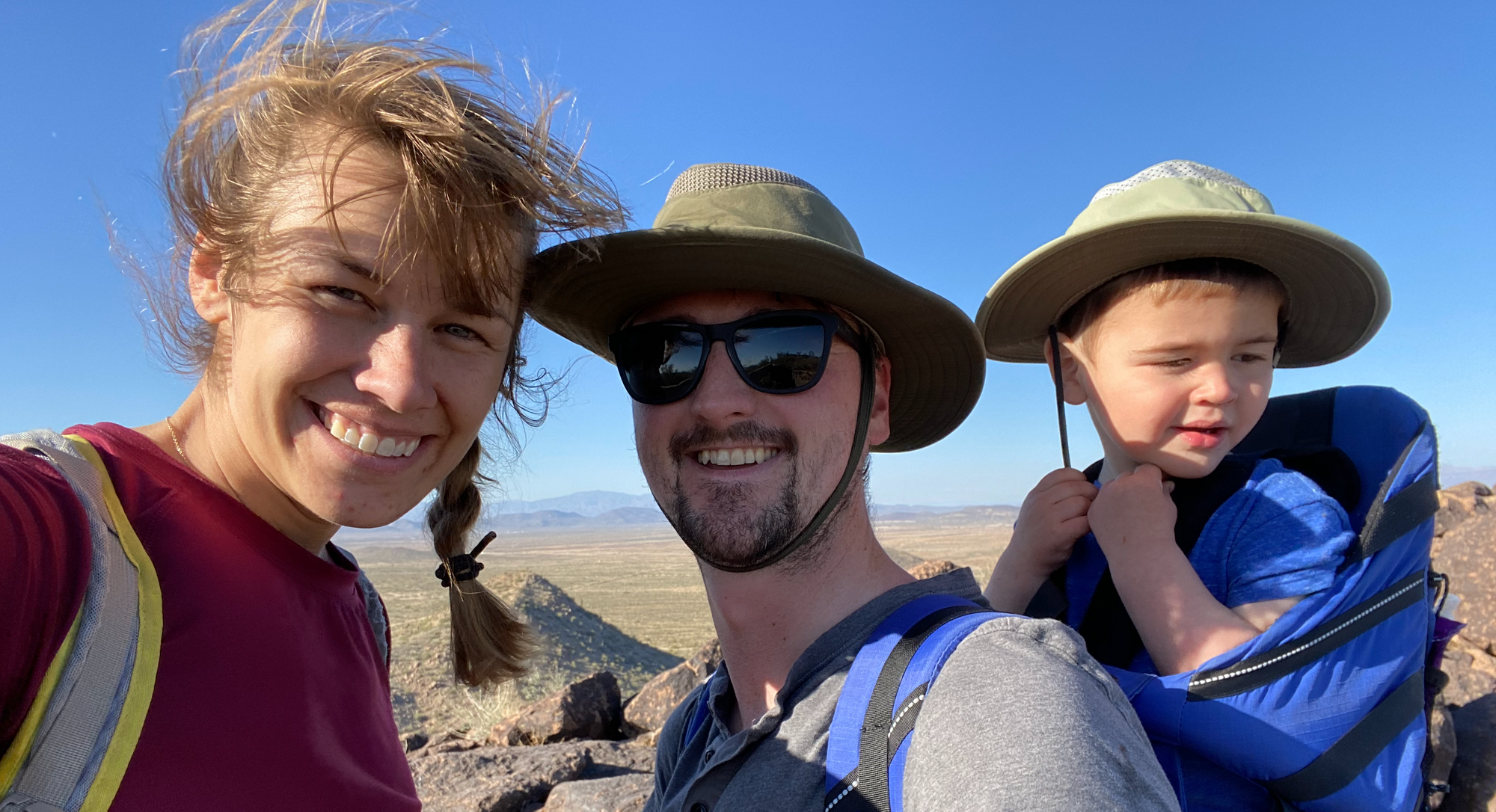 To all those out there following along with our journey, whether you're watching the videos, checking out Instagram, or reading these write-ups. Thank you. I've heard here and there that the lack of posts has been noticed. It's encouraging to hear and I'll try to get back on somewhat of a schedule for getting these out there.
Part 2 is now posted! Read it here.
Campsite Details